Hunter Valles is one of Australia's top wine tourist destinations. With over 150 vineyards, you will indeed have a great wine tasting experience. Enjoy their world-renown Semillon and Shiraz, as well as their restaurants, national parks, golf courses, and gardens.
Visitors can choose between guided and self-guided wine tours to their 150 different wineries and have a sample of the best wines in the region. You will also see the occasional local animals like the Kangaroo, as well as the magnificent rolling landscape.
Visitors can have a day-tour from their hotels in Sydney. For a complete experience, visitors can also stay for a few days at many available accommodations in Hunter Valley. Companies like Newcastle Kitchen Renovations organize Christmas parties at this Wineries yard.
It's always a pleasant experience to wake up and see the different colours and hues of the many vineyards in Hunter Valley. Here are some wineries that you can visit in Hunter Valley.
A large portion of the prestigious vineyards in Hunter Valley is located in Southern Valley and the Brokenback range foothills. The vineyards are set amidst a backdrop of gently sloping hills, making it a fantastic site to visit.
Wineries to visit in Hunter Valley
Tyrrell's
Tyrrell's is located in an area near some of the oldest vines in Hunter Valley. Its 140-year-old vineyard is a must-see for visitors and wine enthusiasts. Tyrrel's offers a great winery experience with its high-end and exclusive wines. It is also a member of the First Family of Wine group, composed of prestigious wine producers worldwide.
The tour begins at 10:30 am and costs $10, a value for money since it already includes wine tasting. Each group is only limited to up to 6 people. Guest can have 45 minutes of tasting using the set tasting list given by the vineyard. It is open from Monday to Sunday from 10:00 am onwards.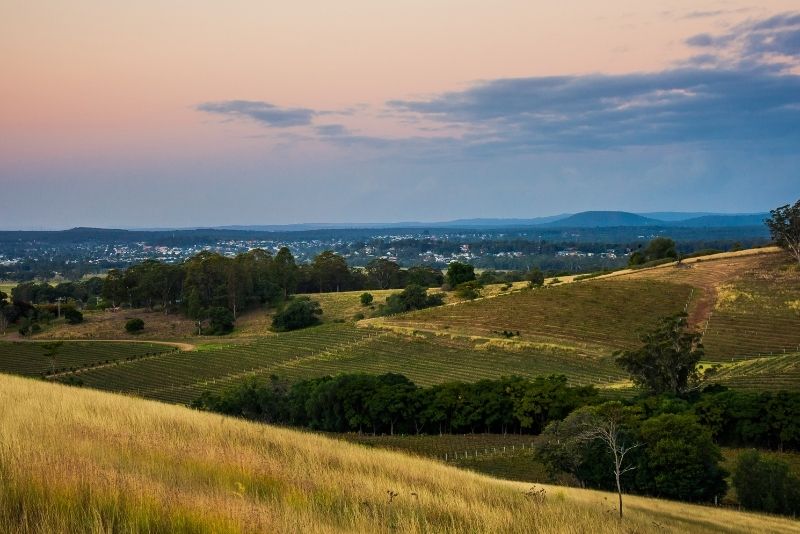 Bimbadgen Estate
Bimbadgen Estate is located on a hilltop with a commanding position and great views of the Barrington and Brikenback ranges. It is in the centre of the Hunter Valley Wine Country and home to Esca Bimbadgen Restaurant and modern accommodations & tasting rooms.
The Cellar door wine tasting experience is $8 per person. Bimbadgen Estate has a large selection of wines including, Chardonnay, Semillon, Shiraz, Cabernet, and many others. The property has an outdoor amphitheatre, vines, grape receiving, and crushing area. It is located on McDonald's road, Pokolbin, and is open from Sunday to Thursday from 10:00 am to 5:00 pm.
Red Door Collective
Red door Collective is located on 25 acres of property in the heart of the wine country. Its Pinot Noir winemaker was awarded Winemaker of the Year. Enjoy a selection of premium single-vineyard wines or relax in their cozy coffee lounge. They are located at Hermitage Road Pokolbin and open on Saturday to Sunday from 9:00 am to 3:00 pm.
Petersons Wines
Petersons Wines is located in Mount View's rolling hills and surrounded by the valley's fantastic views. This family-operated and owned winery has been making wines for 27 years. They were awarded as the Small Winery of Australia Champion in 2011 and are famous for their exceptional quality wines.
Guest can also enjoy their delicious sticky-style deserts and luscious, full-bodied reds. They are located in Mount View Road and open from Monday to Sunday from 10:00 onwards.
Oakvale
Oakvale Wines is unique because they offer vegan-friendly and organic wines. The $5 tour will showcase their seven certified vegan-friendly and organic wines. Proceeds of the public tasting will go to the production of wines for Meals on Wheels, and they have donated more than 45,000 piccolo bottles in Hunter Valley. Oakvale Wines is located on Broke Road Pokolbin and open from 10:00 am to 5:00 pm.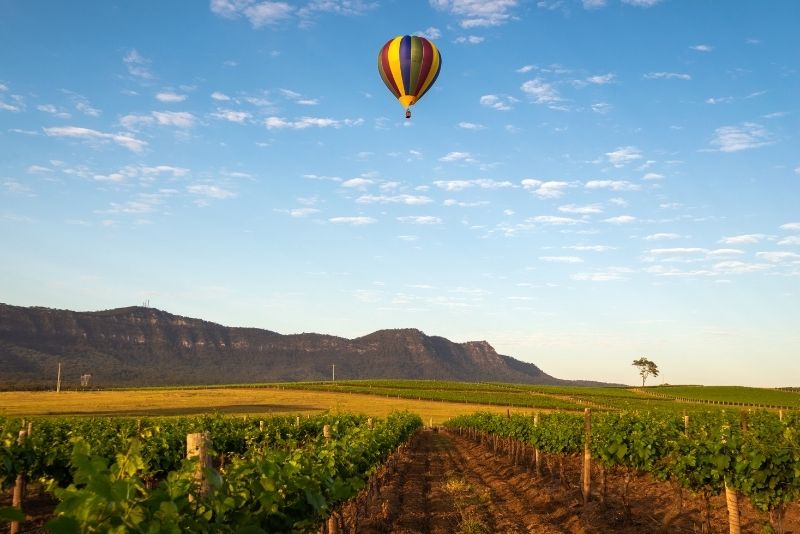 Mcguigan Wines
Upon entering Mcguigan Wines, you will be welcomed to their specially designed wine-tasting area to accommodate up to 100 visitors. McGuigan Wines is known for its Black Label as well as its Vineyard Select and Personal Reserve wines. They have also regularly won medals and wards in several international wine competitions. Mcguigan Wines is open from 10:00 am to 5:00 pm from Monday to Sunday.
Tulloch Wines
If you are both a wine and chocolate lover, then Tulloch is the best place to visit. They offer 45-minute chocolate and wine testing activity. Try their five handmade chocolates and five Tulloch Wines.
They also have a non-alcoholic tasting experience so the whole family can enjoy their visit to Tulloch Wines. They have been in the business for over 125 years. They are located at De Beyers Road, Pokolbin, and open from 10:00 am to 5:00 pm.